STOP AND PRAY:
—-
TRAIL OF THE NATIONS
LEAST REACHED MUSLIM PEOPLES OF SOUTH ASIA
STOP #5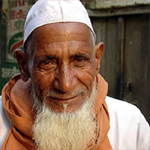 Learn More About The Region:
Islam is the world's second largest religion with a following of over one billion people called Muslims representing one-fifth of humanity. The word "Islam" actually means "submission to God;" therefore, "a Muslim is one who strives to submit to God." Islam was founded in 610 A.D. by a man named Mohammed. During Mohammed's time, polytheism reigned. During one of Mohammed's trips as a trader, he had a vision from a being he perceived to be an angel who said, "There is only one God, and His name is Allah. Worship Him." Islam has now spread all across the globe, predominantly in Africa, the Middle East, and Asia. About 60% of Muslims are Asian, 22% are found in the Arab world, 12% in sub-Sahara Africa, and 5% in Europe. 564 least-reached people groups in South Asia are Muslim. Although the two religions share some terminology and even some theology (monotheism, for instance), Islam is fundamentally different from Christianity. Islam is a works-oriented religion, while Christian faith is based on salvation by grace through faith as a result of the shed blood of Christ. The Muslim's holy book is called the Quaran which they believe was dictated to Mohammed by God through the angel Gabriel. Muslims are also told in the Quaran to read three other holy books: the Torah (which are the first five books of the Old Testament), the Zabur (which are the Psalms of David), and the Injeel (the gospel of Christ). God is at work among the Muslim peoples of South Asia and around the world today in amazing ways.
Prayer Points:
MESSENGERS:
Pray for Messengers of the gospel for every Muslim people group, even to the most remote places.
MAJESTY:
Pray for God's love and majesty to be revealed to Muslims peoples throughout South Asia so that they love and serve him with their lives.
MODELS:
Pray that believers living near Muslim peoples live their lives as examples and walk worthy of His call.
MENTORS:
Pray for wise mentors who coach workers well, inspiring and encouraging them in an ever-expanding network of loving relationships.
METHODS:
Pray for wise effective methods to be used to share Truth in ways that are clearly understood, received and acted upon by those who are hearing. Pray for protection and encouragement for those who respond.