STOP AND PRAY:
—-
TRAIL OF THE NATIONS
LEAST REACHED PEOPLES OF MIDDLE EAST & NORTH AFRICA
STOP #7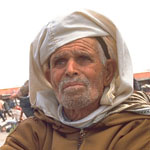 Learn More About The Region:
Half the 19 countries in the Middle East/North Africa still have over 90% of their population least-reached in over 360 people groups. Christ was born in this region, but he is honored as a prophet, not as Lord by the Sunni Muslims who are the majority here. Arabs and Bedouins make up the bulk of the population, though Berbers are more prominent as one moves further west in North Africa. Israel has the largest number of least-reached peoples per country—41 people groups! Israel wavers between Orthodox and a secular forms of Judaism, while Messianic Jews try to influence God's chosen people. Will the King of Kings be honored in the land of His birth as the savior that He really is?
Prayer Points:
HEART HUNGER:
Pray for real heart hunger in every individual throughout these Least-Reached Peoples, that they would long to know the Truth and be set free; pray they find true freedom in Jesus.
RECONCILIATION:
Hundreds of years of offense and strife have engendered bitter hostility between Christians, Jews, and Arabs. Pray for God to soften the hearts of these, to heal the hurts, and to break down every dividing wall– making them One New Man in Jesus Christ.
CREATIVE ACCESS:
Ask God to make a way where there seems to be no way to share His love and truth with those held in restricted access environments.
MODELS:
Just as Jesus became flesh and dwelt among us so that we could know God, pray for believers who are willing to live incarnational lives among these groups, no matter what the challenges may be.
STUDENTS:
Young people are often seeking answers for deep questions of life. Pray that God directs them to those who can give them the Answer.