STOP AND PRAY:
—-
TRAIL OF THE NATIONS
LEAST REACHED PEOPLES OF WEST EUROPE
STOP #11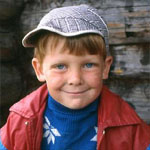 Learn More About The Region:
The 28 countries of Western Europe are going through a period of unprecedented peace but, with political and economic integration, there is also ethnic fragmentation. Many of Europe's great cities today hold in their straining arms a multitude of cultures and languages, coming drawn by education and opportunities or fleeing from war, famine, economic deprivation, and sometimes horrifying situations. 208 least-reached people groups live here. From tiny Cyprus with 23% of its population least-reached to France, Western Europe's greatest challenge in terms of the gospel, with a population of over 6 million least-reached people in 32 different people groups. Now is the time for bringing the gospel to those searching for answers in Western Europe.
Prayer Points:
MIRACLES OF HEALING & DELIVERANCE:
People groups and people are far from the Lord for many reasons. Pray that they will turn their hearts to their creator who can give them Eternal life and will find the Father who seeks them continually.
POWER OVER THE DEMONIC ACTIVITY:
Pray for new believers to grow strong in their faith in the Lord and pray for those translating scriptures into languages needed for the remaining Least Reached Groups.
ONCE FOR ALL SACRIFICE:
Pray for more and more fruit that remains from every least-reached people group. Pray for those new believers to be fearless witnesses who will reach out to them and give a true testimony of the Lord to them.
BINDING OF ALL BACKLASH OF THE ENEMY:
Pray that those who have heard the Word and are now far away will come back to the Lord and come to know Him fully, and for wisdom and clarity for those sharing the Gospel among the Fulani and others of these 234 groups.
BREAKING GENERATIONAL CURSES:
Pray for good health for the least-reached peoples as they often die at an early age due to malnourishment and sickness in their homeland; pray also for those ministering to their physical needs and for all these ethnic groups in Western Europe to find that fullness of life Jesus offers them.